Time-out: an essay on waiting and wishing, 2023

Three 4K videos, color, sound, 6' in a loop

"Time-out: an essay on waiting and wishing" (2023) has been produced for the solo exhibition Fictional Stages (30 January to 23 April 2023) in Thyssen-Bornemisza National Museum (Madrid), as part of the Kora exhibition series. The exhibition, curated by Semíramis González and coordinated by Laura Andrada, from the museum´s Curatorial Department, is presented in the 1st floor exhibition gallery and also in Rooms 19, 20 and 21 in dialogue with works from the Permanent Collection.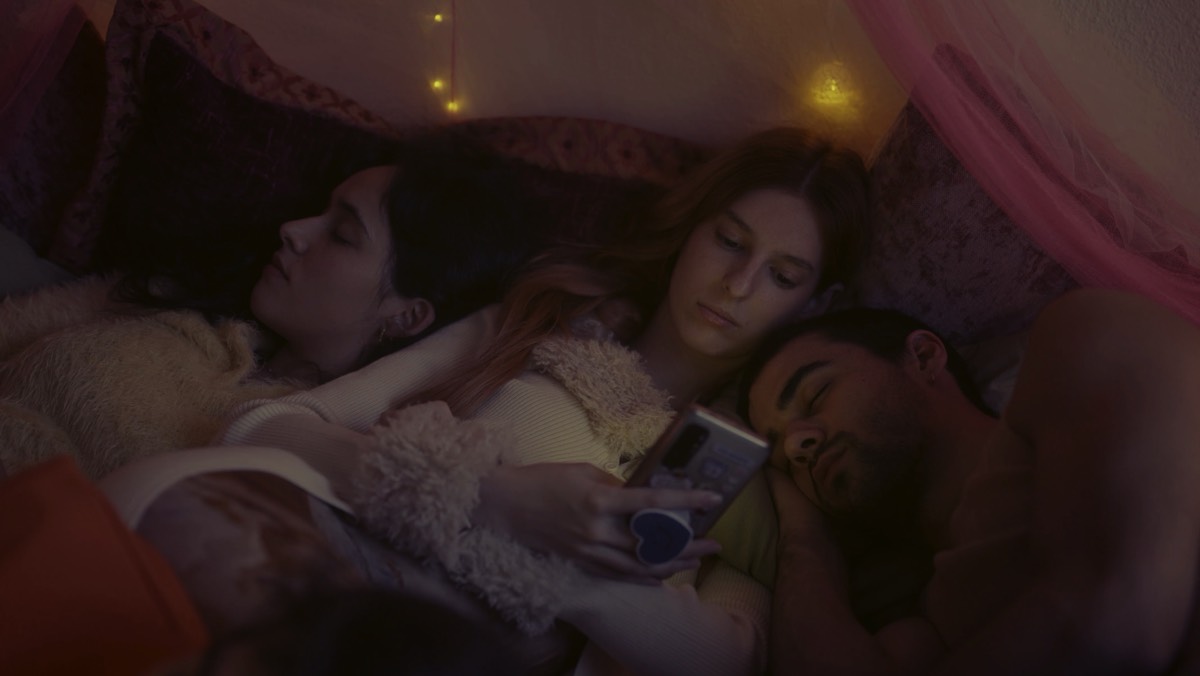 Through this work, I delve into the contemporary codes of self-perception and the relevancy the selfie as nowadays' self-portrait. Even though many paintings from the Thyssen-Bornemisza Museum collection caught my attention, there were three that struck me specially while investigating the topic of self-image. The Birth of the Virgin and The Annunciation, both by Jan de Beer from around 1520, imbued me for their colors and complex composition, as well as the staging of their characters in the scene. Inspired by these paintings, I also wanted to distribute the young characters who star in this project thorough a teen bedroom, and so I also researched for films where teenagers these spaces serve as their refuge or meeting place. But it was truly Venus and Cupid, from around 1600-1611 by Peter Paul Rubens, the painting that inspired the theme of my work: Venus contemplates the beauty of her own image in the mirror that Cupid holds, a gesture that we repeat daily when observing our own images on the screen of our smartphone: self-contemplation, the selfie and the pleasure of seeing and being seen on the screen. If Slavoj Žižek considered that the cinema marked what we should wish for, now the screens of smart phones and the Internet reflect what we should dream of.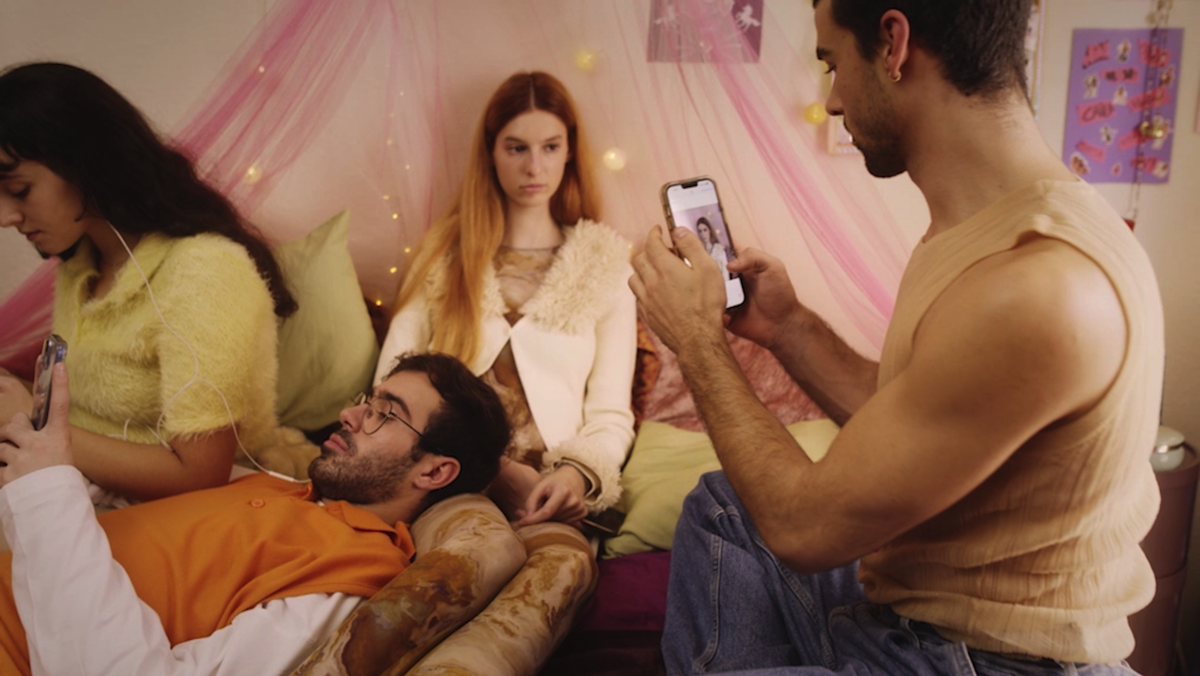 The three videos that make up this series can be found in the same location: a teen bedroom. The protagonists are young people between the ages of 20 and 25 who meet at the home of one of them to hang out. What we see is that part of their hobby is looking at the screens of their phones. Slow and contemplative camera movements observe the lethargy in which this group of friends find themselves. The scene is played on loop, so the action appears to be trapped trapped in time. The wait and the hope that something will break this monotonous and lethargic pace may overwhelm the viewer but, as if it were a painting, the protagonists are portrayed in a snapshot, for this reason the staging is sustained continuously.

There are two video portraits: Lobby, in which young people spend the day awake, and Dreaming, which takes place at night, while the protagonists sleep. In Lobby they all live in the same space as friends, they caress each other, but they don't talk; almost everyone is focusing on their smart phones. One of the girls, a redhead with long hair, reenacts with her friend the action in Rubens's painting: the boy takes a picture of her, and then shows her her own image, and she smiles slyly when contemplating herself.

In the next room of the museum we find Dreaming, which dialogues with the painting Esau Selling His Birthright, from around 1627, by Hendrick ter Brugghen, one of the most prominent members of the Caravaggisti of the Utrecht School. In this painting, a candle is the only source of light, illuminating the profiles and bodies of the main characters. In the same way, the protagonists of the video are hardly illuminated by the bedroom lights or by the brightness of their screens. Some wake up to check their notifications, and others continue to sleep and dream, possibly about what they wish for and what is on their phones.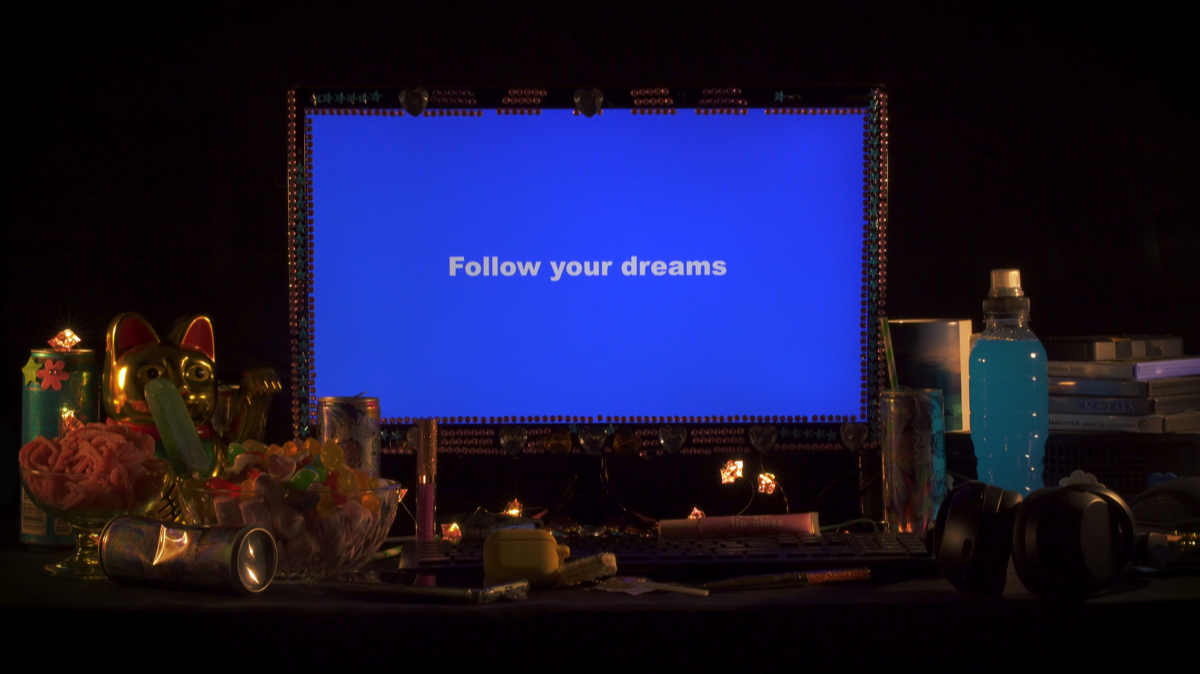 Lastly, Still Life relates to the work of Willem Kalf, one of the most important Dutch still life painters. Still Life with Chinese Bowl, Nautilus Goblet, and Other Objects from 1662 is made up of luxurious objects such as a Ming-era Chinese bowl, a crystal goblet with a carved lid, and a Persian tapestry. These select objects are placed by an orange and a lemon, which in the company of wine, allude to temperance and moderation. The Still Life video dialogues with Kalf's painting, as it is also a still life, but it is made up of a computer screen, a keyboard, a mouse, knick-knacks, and cans of energy drinks. Threre's DVD boxes of the Matrix movie and video games like The Sims, among others. All these elements share information about today's precious assets: those devices to play video games and connect to the Internet. The scene is completed by candy and other processed food, which provide the sweetest taste that we can have within easy reach. Therefore, this is as still life of emotions, artifice and evasion. Messages appear spontaneously in the computer screen, as if it were manifesting itself, reciting a mantra and self-help slogans: "Don't give up", "Go for it", "What are you waiting for?", "Just do it", "Follow your dreams", "Stay magical".
Direction: Ana Esteve Reig
Production: Miriam Velo
Assistant director: Sofía Tudela
D.O.P.: Malasombra (Fco. Javier Ruiz yMarta Abril García)
Camera: Fco. Javier Ruiz
Camera assistant: Marta Abril García
Second camera assistants: Santiago Carlini, Gustavo Ruiz
Live sound: Gonzalo Díaz Cosculluela
Art direction: Alejandra Pastrana
Art assistants: Irene Luna, Ana Vasco
Styling: Chio Lagana
Runner: Cristina Artés González
Edition: Ana Esteve Reig
Color: Armand Rovira
Sound: Álvaro Chior
Performers: Javier Beltrán Sampol, Ethan Blanco, Manuel Camacho, Nina Fischer Escudero, Álvaro Frobischer, Carla León, María T. Farías, Marta Velo Lorenzo.